Brazilian Bum Bum Cream Sol de Janeiro review: does it really work as an anti-cellulite agent? Is it worth it? Let's find it out! Here is my experience with this product.
With each season, I like to test different products. This summer, one of the most talked about treatments is Brazilian Bum Bum Cream. That's why I decided to try it.
It's quite expensive and several celebrities use it, so I was wondering if it was worth buying.
In general I must say that when I hear of products that can firm up the skin, I am always a little skeptical. Without a healthy diet and the right movement, at the moment I have not found products that can make any difference.
But I'm always open to new things and testing new products, ready to be amazed.
So, is Brazilian Bum Bum Cream worth the hype? Let's find it out.
The product: Brazilian Bum Bum Cream overview
First of all, let's discover the main characteristics of Brazilian Bum Bum Cream, produced by Sol de Janeiro.
This body treatment is fast-absorbing and it claims to visibly firm and smooth the skin. Also, it has won numerous awards (such as 2020 Allure Readers' Choice Winner).
The cream looks like a pale yellow butter and the name might suggest that it can only be applied to the butt, while it is actually suitable for use all over the body. Nice!
The cream is contained inside a yellow plastic jar (reminiscent of the sun), with a white cap. No spatulas included.
There are multiple versions available. The standard size contains 8.1 oz (240 ml), while the travel size is 2.5 oz (75 ml).
Pao: 24 months.
The product is available in the official store (price $48 for the full-sized product), at Sephora (price $48) or Walmart ($45, for a limited time on sale at $31.99).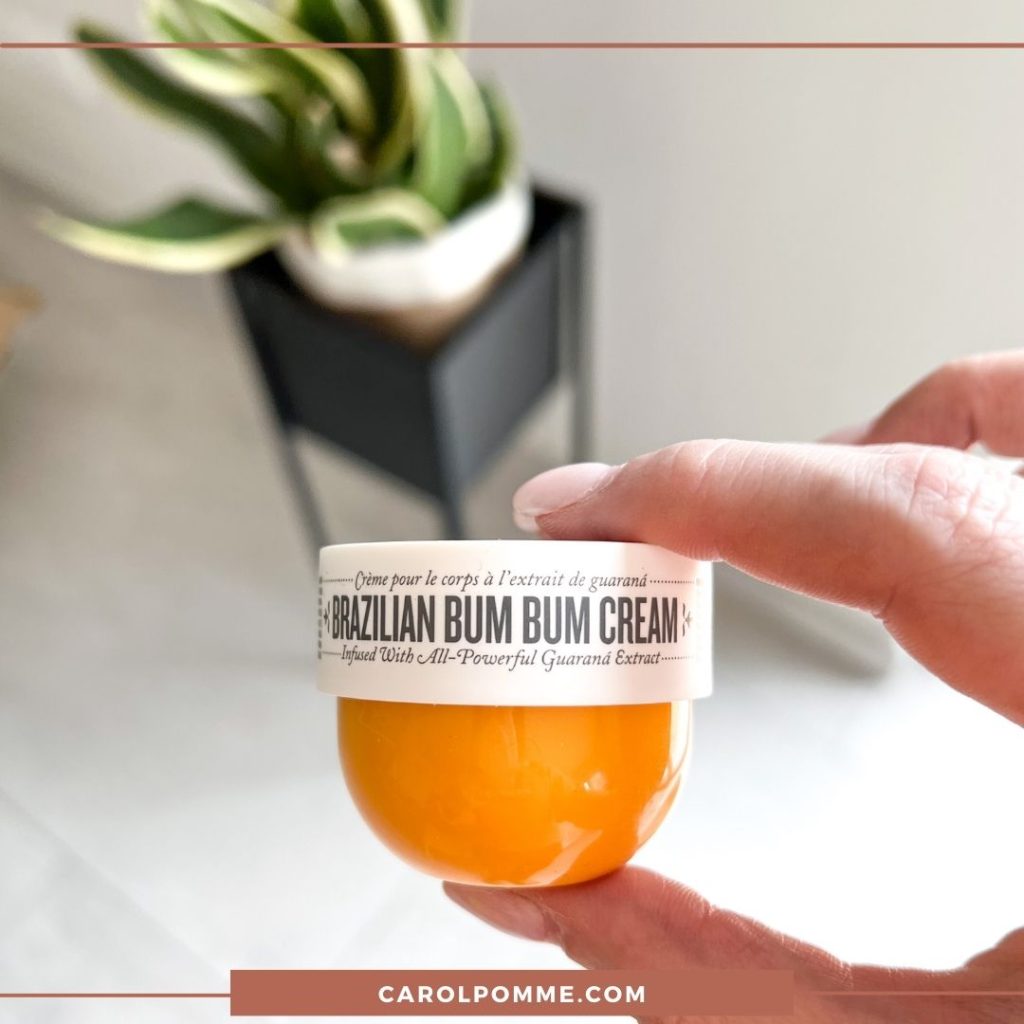 Key ingredients
What are the main ingredients of this cream? Brazilian Bum Bum Cream contains guaraná, coconut oil, Açaí oil and Cupuaçu butter.
Let's analyze the properties of these ingredients.
Guaraná

: antioxidant and fat burning action, an effect also promoted by caffeine.



Coconut oil

: rich in selenium, which strengthens the skin barrier.



Cupuaçu butter

: full of fatty acids and phytosterols, is helpful to moisture and restore skin's elasticity.



Açaí oil

: a rich source of fatty acids, it soothes and protects dry skin.

Finally, it's cruelty free and suitable for vegans.
Let's now analyze its unique fragrance.
Top notes: pistachio, almond.
Heart notes: heliotrope (called vanilla flower), jasmine petals.
Base notes: vanilla, salted caramel, sandalwood.
Brazilian Bum Bum Cream Review
I tried Brazilian Bum Bum Cream for the first time because I found it inside a Lookfantastic box.
I used this body cream for over a month and found both pros and cons.
First of all, it smells great. It smells like summer. It makes you think of the sea and holidays, even if you're stuck in the city. In addition, the fragrance is resistant and lasts all day.
Then, this cream leaves the skin nourished, soft and hydrated. It also gives it a bright and slightly sparkling appearance. If we are tanned, it emphasizes the color and makes it more uniform.
It does not remain heavy on the skin.
Let's talk now about the weaknesses of Brazialian Bum Bum Cream. I do not find that it clearly firms the skin, nor improves cellulite. From this point of view, I didn't see any difference before/after.
But in any case it gives the skin a beautiful brightness that makes it appear more compact. However, this is just an optical effect.
Another cons of this cream is that it is quite expensive.
Does it really hydrate the skin? Well, it depends. If we have normal skin, it's a good treatment.
If we have very dry skin, I don't think that's enough. Also, I wouldn't use it at sea, after a day spent in the sun.
Pro & Cons
Pro:
Smell,
Consistency,
Quite moisturizing,
Illuminating action,
Cruelty-free,
Availability.
Cons:
Price,
Not the best for dry skin,
Does not improve cellulite
Someone might find the scent too intense.
Love this post? You may also like:

– Kiehl's Midnight Recovery Concentrate Serum review.
– Garnier vitamin c serum review.
– Kiehl's ultra facial cream review.

Final condiderations: is it worth buying the Brazilian Bum Bum Cream?
So, is it worth buying this cream? After trying many beauty products (I'm a real expert now!), here's what I think.
If you have normal skin, a good budget and are looking for a body cream that smells like summer, this is the product for you!
On the other hand, if you have dry skin, you are looking for a specific product to treat cellulite, or hate lingering scents, this cream is not suitable.
See you soon,
Carol