Garnier Vitamin C Serum Review: we tried it for you! Does it work? Benefits, ingredients and how to use in this guide.
After discovering the many benefits of vitamin C, I decided to test first-hand the cosmetic properties of this ingredient.
That's why I bought Garnier's vitamin C facial serum. I have tried several products of this brand and I have always been satisfied.
At first glance, this product has several positive aspects. First of all, it is easy to find it. In addition, it has a low price and, last but not least, those who have tried it talk about it with enthusiasm.
But is it really worth it? I was really curious to find out if this serum could quickly improve the appearance of the skin.
In this review I am going to tell you about my experience with Garnier Vitamin C Serum. Let's get started!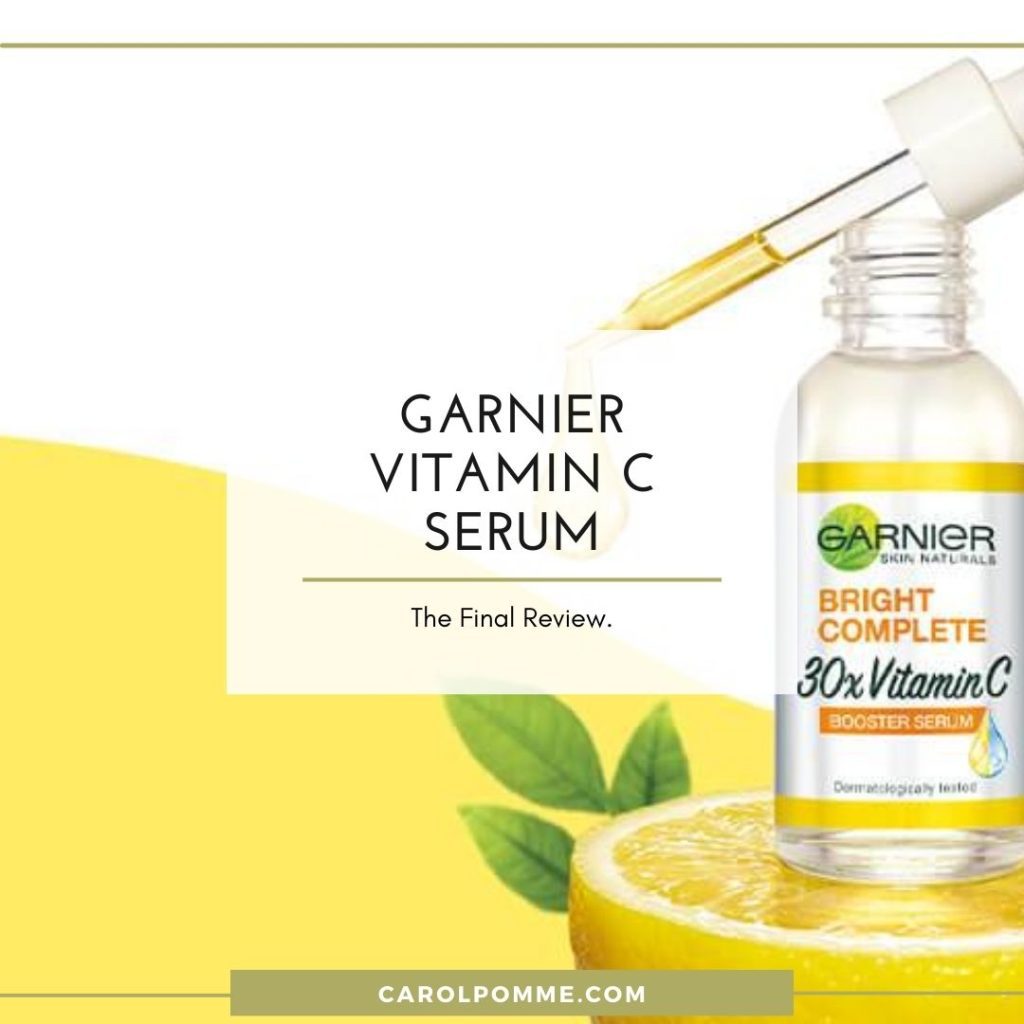 The product: Garnier's Vitamin C Serum
First of all, let's discover the main characteristics of Garnier Vitamin C Serum, which we can also find with the name (actually quite long) Garnier 3.5% Vitamin C, Niacinamide, Salicylic Acid, Brightening and Anti Dark Spot Serum.
This facial serum is part of Garnier Skin Active line and it stands out for its light formulation, which acts to reduce the appearance of dark spots while at the same time helping to brighten the skin.
So it's a great product for pigmentation and discoloration troubles.
Thanks to niacinamide it can also be used by those with acne-prone skin.
Here are the results obtained from the tests carried out directly by Garnier:
appears smoother and smoother after 3 days


dark spots' appearence is reduced after 6 days,


43% dark spots reduction after 56 days of use.
We can therefore define Garnier Vitamin C Serum as an antioxidant, purifying and lightening product.
Now, let's talk about packaging.
First of all, the product comes packaged inside a cardboard box, which contains various information and a QR code with a link to the Garnier website.
The transparent glass bottle gives a glimpse of the residual amount of product: I really like this!
Then we have a practical pipette dispenser: we can take just the right dose of serum. The pipette cap is also white.
Each bottle contains 30 ml of serum, which is the standard amount for this type of product.
Finally, Garnier Vitamin C Serum is a cruelty free product.
Benefits of Garnier's Vitamin C Serum
Now, let's talk about the benefits of Garnier Vitamin C Serum.
First of all, it is a product suitable for all skin types, even the most sensitive ones.
Its main goal is to brighten the skin. At the same time, it helps to reduce dark spots.
What can we expect? Definetely more radiant, uniform, smooth skin with less visibile spots over time.
Obviously, great results are only obtained with continuous use of the serum.
How to use it
How to use this serum to make the most of all its potential benefits?
After cleansing the face, apply a few drops of serum on the face (the indications suggest an amount equal to the entire dropper) and massage it to promote absorption. Then proceed with the face cream.
We can use this serum daily, even twice per day, in the morning and before bed time. If we use it before going to bed, remember to carefully remove all the make up from your face: lately I am feeling great with Elemis Pro-collagen Cleansing Balm.
It is effective and at the same time delicate.
Always remember to avoid applying this serum on the eye contour.
Garnier Vitamin C Serum Review: my personal experience
This is my experience with Garnier Vitamin C Serum, after using it for more than a month.
Premise: my skin is mixed and sensitive, with some spots caused by hyper pigmentation.
It is precisely to combat the latter that I started using this Garnier serum. In addition, the color of my skin appears tired and dull (especially in winter): it really needs a burst of energy.
That's why I started tried using Garnier's lightening serum in the morning, in the evening or at both times of the day, to see the different reactions of my skin.
The fragrance of the serum is light and the lemon notes in the new formulation are just hinted at.
The serum is easy to spread on the face, it is lightweight and it is absorbed within ten seconds (as long as you don't apply too much of it).
It is definitely a pleasant product to use. I also like the fact that it doesn't stick.
After two weeks of use, my skin was more beautiful: it is in fact brighter and more compact. Then, after a month of regular use, I noticed that the spots on the skin actually started to become less noticeable.
As for the packaging, I find it simple but practical: thanks to the opaque glass we can in fact see how much serum remains inside the bottle. Cool!
Finally, this cerum certainly has an excellent quality/price ratio (especially in the online stores that we find indicated in the section on where to buy it).
So if we are looking for an inexpensive and effective face serum, this is a product to try.
Pro & cons
Pro:
Consistency,
Experience of use,
Dropper,
Clear bottle,
Smell,
Illuminating action,
Smoothing action,
Anti-spots action,
Cruelty-free,
Availability,
Price.
Cons:
Package: not elegant,
Glass bottle: more fragile.
Side effects
Garnier vitamin c serum side effects may include: irritation, itching, redness, or rashes.
This may occur if we have a hypersensitive skin. In case of doubt, we should do a patch test before using the serum.
Personally, I didn't experience any problem with this product.
Ingredients of Garnier vitamin c serum
This is the list of ingredients of Garnier vitamin c serum:
Inci: Aqua / Water, Glycerin, Alcohol, Dipropylene Glycol, Butylene Glycol, Niacinamide, PEG/PPG/Polybutylene, Glycol-8/5/3, Glycerin, Hydroxyethylpiperazine, Ethane Sulfonic Acid, BIS-PEG-18 Methyl Ether, Dimethyl Silane, Isononyl Isononanoate, 3-O-Ethyl Ascorbic Acid, Citrus Junos Fruit Extract, Citrus Limon Fruit Extract / Lemon Fruit Extract, Sodium Citrate, Sodium Hyaluronate, Adenosine, Phenylethyl Resorcinol, Ammonium, Polyacryloyldimethyl Taurate, Disodium EDTA, Hydrogenated Lecithin, Citric Acid, Maltodextrin, Xanthan Gum, Oxothiazolidinecarboxylic Acid, Tocopherol, Tocopheryl Acetate, Salicylic Acid, Phenoxyethanol, Linalool, Geraniol, Limonene, Benzyl Alcohol, Benzyl Salicylate, Parfum / Fragrance (F.I.L Z286154/2).
PAO: 12 months.
This is the updated list of ingredients, also shown on the package I purchased.
Remember that the Inci may change in the future: therefore we should always refer to what is reported on the product itself. For example I noticed that in the version I bought there is a different fragrance compared to previous ones.
What are the most interesting active ingredients in this formulation? We have 3 of them:
vitamin C,

niacinamide,

salicylic acid.
First of all we have niacinamide, one of the most loved ingredients in the skincare world. This is because it has soothing properties and at the same time it strengthens the skin's natural barrier, making the pores smaller.
We also found it in The Ordinary 10% Niacinamide + 1% Zinc serum, that I like (and which I recently repurchased, as it is so good).
Then we find vitamin C, which helps make the skin brighter and reduce skin spots. But there's even more.
In fact, it is a powerful antioxidant, capable of neutralizing free radicals caused by ultraviolet radiation, pollution or smoke. It also seems that this active helps in the prevention of collagen loss.
Finally, salicylic acid acts as a gentle exfoliant and is also used to fight acne. It removes dead skin cells, leaving the skin fresh and glowing, without stressing it out.
Where to buy Garnier vitamin c serum
Where to buy Garnier vitamin c serum?
We have a few different options, but the best one at the moment is Walmart ($13.63).
Love this post? You may also like:

– Brazilian Bum Bum Cream: is it worth it? The review.
– Pixi Eye Patches review.
Final considerations: is it worth buying the Garnier Vitamin C Serum?
Well, we've come to the end of this Garnier Vitamin C Serum review.
Is it worth it?
All things considered, my experience is globally positive: it is a good, economic serum for the face.
Over the last few years I have tried many products of this type and this one from Garnier has pleased me a lot. It leaves the skin hydrated and luminous, without anointing it. Containing niacinamide, I found it indicated also for mixed skins, like mine.
The spots on the skin did not disappear completely after use, but they still faded.
You may also like:
See you soon,
Carol.