Review of Pixi Eye Patches: what they are, how to use them, price and my opinions after testing them. Are they the best patches?
Pixi Beauty is among the most active brands in the skincare sector and it constantly creates new lines and references.
One of their best seller products are the eye patches, that promise to revitalize the area.
But are they worth it? I decided to buy a pack and test them to see what results can be achieved. This is the review of my experience with these eye patches.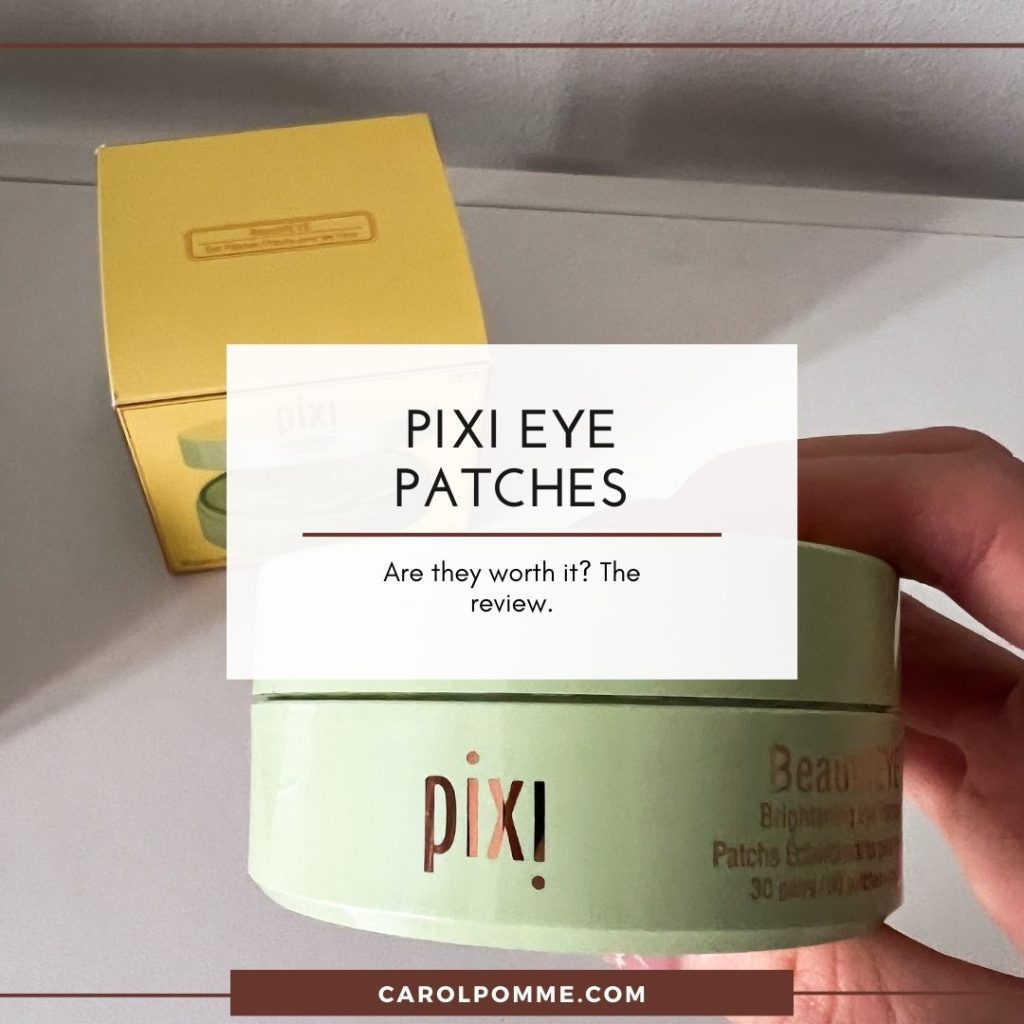 Pixi Beauty Brand
First of all, let's find out more about the brand. Pixi Beauty was created by Petra Strand more than 20 years ago.
The brand made its first appearance in the Soho store in London and has continued to expand ever since.
Pixi goal is to bring out our natural beauty, thanks to its multifunction products with innovative formulations.
Among its flagship products, in addition to the eye patches that are the subject of this review, there are also the Glow Tonic, the blush and the detergent, all best sellers.
Pixi has also developed several lines, to meet our most common needs.
What about the price? Pixi products are quite affordable: they are located above the classic products that we can also find at the drugstore, but they are still less expensive than luxury products.
Finally, it's important to say that this brand adopts a cruelty-free policy. On the contrary, not all products are suitable for those who follow a vegan lifestyle, although between the various lines there are several vegan products.
Pixi eye patches: the product
Let's analyze the product Pixi Eye Patches.
These patches have the classic, drop shaped, designed to treat the area around the eyes. I noticed that they also are larger than other similar products, so the area actually treated is wider.
They are soaked in a gel serum that contains active ingredients designed to hydrate the area and counteract swelling and dark circles. Additionally, they have no fragrance.
They are stored in a light green, circular jar made of plastic. Each pack contains 60 patches, for a total of 30 uses.
Once the package is opened, we will also find a second lid, which is used to keep the patches separate from the useful plastic scoop, which facilitates picking.
There are 4 different versions of these eye patches:
BeautifEYE: brightening
FortifiEYE: toning.
Dream-YEYE: regenerating.
DetoxifEYE: decongestant.
How to use Pixi Eye Patches
How do we use Pixi Eye Patches? First, remember that they should be applied on clean skin, so let's do a gentle cleansing.
Then we use the scoop included in the package to pick up a couple of patches and gently separate them.
Now we apply a patch on each eye contour, with the thickest part towards the outer corner of the eye.
Let's wait for 10 minutes and then we can remove the patches.
Some gel will remain on the skin: we can tap gently with the ring fingers.
If we want even stronger results, we can put the eye patches in the refrigerator before using them.
How often should we use them? We can apply them as much as we want to. Additionally, they are suitable for everyday use.
Review: my experience with Pixi Eye Patches
And now, here is my honest review of my experience with Pixi Eye Patches.
Usually I don't have dark marks under my eyes, but sometimes the area looks swollen. My skin is sensitive and therefore I am always rather cautious when I try a new cosmetic.
However, these patches have never caused me any irritation.
So, how good where them?
First of all, I tried to use these patches at various times of the day, often keeping them for more than 10 minutes. If we have a special event, in my experience it is best to apply them a few hours before it.
They are also good to use when the eye contour is fatigued, especially when you haven't slept a lot.
In the image below we can see the results after using the patches for the first time.
After removing the patches, the eye contour is more compact and firm.
I also tried to keep them in the fridge for a while: they seem even more effective!
In addition, these patches are also great for those like me, who spend many hours in front of the computer. The tightening effect that is perceived as a particular relief.
The patches are then dipped in plenty of liquid and are well soaked.
Speaking of the packaging, the jar is simple but still aesthetically pleasing. The double cap is also worthwhile.
To sum up, my overall experience is positive.
After using them, I usually apply either Cerave eye contour or Kiehl eye contour, enriched with avocado.
Cons
Now let's talk about the most critical aspects of these eye patches. In fact, although the overall experience is positive, there are some things that aren't great.
First of all, it is necessary to be very careful during the first applications. In fact, the patches may be quite slippery once applied to the skin.
In fact, the patches tend to slip away, especially when I am standing.
It also happened once that a patch moved a little while I was lying down. Probably because it was particularly rich in gel.
After the first uses, we could have some serum residues on the skin after a few hours, which form small agglomerations that must be removed. That's because the gel wasn't evenly distributed on the patches.
Finally, a few times some patches broke on the sides while I was positioning them, probably due to a nail scratch.
The good news is that most of the downsides are visible only during the first applications. Then they disappear.
Ingredients
Here is the list of ingredients of Pixi Eye Patches (brightening version).
Inci: Aqua/Water/Eau, Glycerin, Hippophae Rhamnoides Water, Carrageenan, Dipropylene Glycol, Niacinamide, Ascorbic Acid, Cocos Nucifera (Coconut) Fruit Extract, Citrus Limon (Lemon) Fruit Extract, Camellia Sinensis Leaf Extract, Panax Ginseng Root Extract, Glycyrrhiza Glabra (Licorice) Root Extract, Arginine, Ferulic Acid, Caffeine, Dipotassium Glycyrrhizate, Cyamopsis Tetragonoloba (Guar) Gum, Ceratonia Siliqua (Carob) Gum, Propanediol, Calcium Chloride, Pentylene Glycol, Pinus Sylvestris Leaf Extract, Ethyl Hexanediol, 1,2-Hexanediol, Potassium Chloride, Polyglyceryl-10 Laurate, Allantoin, Cellulose Gum, Chlorphenesin, Sucrose, Calcium Lactate, Caprylyl Glycol, Squalane, Ethylhexylglycerin, Disodium EDTA, Iron Oxides (CI 77492).
They do not contain ingredients of animal origin and are therefore suitable for those who follow a vegan lifestyle.
What are the most interesting ingredients? Well, there's a solution derived from sea buckthorn, known for its high content of vitamin C, polyphenols, carotenoids and vitamin E.
Then there is niacinamide, known for its antioxidant properties. Its anti-ageing effect is also enhanced by the presence of ferulic acid.
This list also contains extract of licorice and ginseng, which are anti-inflammatory, toning and revitalizing.
As we said, this is the list of the BeautifEye version. However, I also checked the ingredient lists of the other variants.
Although each of them has some peculiar elements, we often find the same active ingredients in all of them. Caffeine for example is listed in all of them and coconut extract as well as green tea extract are also common.
Where to buy Pixi Eye Patches
Where to buy them?
We can find Pixi Eye Patches here on Pixi official website (price $ 24 each jar). Other options include Ulta and Target (same price).
Love this post? You may also like:

– Brazilian Bum Bum Cream Review.
Final condiderations: is it worth buying the Pixi Eye Patches?
Well, we've come to the end of this review of Pixi Eye Patches. Are they the best patches out there?
Well, speaking in absolute terms probably not, but they are still really valid patches and I like them.
In fact, in the end I was satisfied and therefore I would most likely buy them again, perhaps trying another version.
It should also be noted that the packaging allows us to make 30 applications, so the quantity/price ratio is still interesting, despite the higher initial expenditure. Each pair of patches costs us about 90 cents. Not bad!
Finally, a cheaper alternative is Garnier eye patches.
Much love,
Carol.