Coronavirus is now an issue all over the world and many of us must stay at home, for our safety, of course, but also to help others. I know, this is a challenging time for everyone and especially here in Italy, where I live, the situation is very serious. That's why I am doing everything I can to protect my family and help our health care system. And I know, social distancing isn't easy (although it's necessary). That's why I've thought about a way to be virtually together and, at the same time, trying to take care of ourselves and be positive. And here it is, my proposal: a to-do list for the upcoming week! We will be in this together and we will spend some lovely moments, enjoying the little things in life. Let's have a look at it!
1. Apply a face mask: let's start with some self care! You can try a new face mask or make one at home, using the ingredients you have in your kitchen! There are so many awesome recipes for natural face mask, you will be able to find the perfect one for you, for sure. And once this sad moment will be over, you will be even more beautiful!
2. Start a new TV show: this is the perfect time to watch that interesting TV shows that's been waiting for you! I've just found out that a new TV show, Self Made, is available on Netflix and I can't wait to watch it. It talks about the true story of Madam C.J. Walker, who rises from poverty (her parents were slaves) to build a beauty empire and become the first female self-made millionaire. What an inspiring story! Have you already watched it ?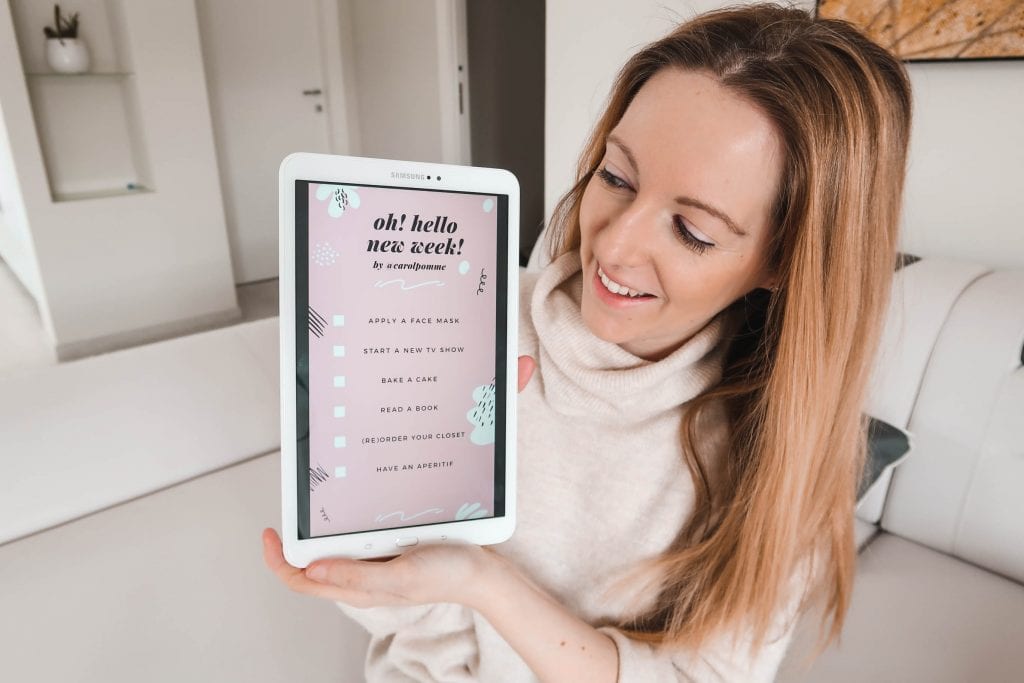 3. Bake a cake: during our hectic everyday life, it's really hard to find some time to calmly cook and enjoy the process. Let's use this time to cook together with our family and let's make the most of it! Let's be inebriated by the scent of our delicious cake, let's indulge in savoring the first slice. And we have to admit it, peacefully eating a cake with our loved one is a moment we should treasure.
4. Read a book: the Italian writer Umberto Eco says "he who does not read, at 70 years old will have lived only one life. He who reads, will have lived 5000 years". That's why you should take a comfy blanket, sit on your sofa and start reading a book. It may be a new one, it may be your favorite one, it doesn't really matter. For an hour or so, you will be able to (safely) travel to a different place.
5. (Re)organize your closet: spring is here and the weather will soon be milder, so it's the perfect time to clean your closet and declutter your wardrobe. If your closet is organized, it will be easier to find the clothes you need. Look at each item and decide if you want to keep it or not. In this case, you can donate it, sell it or throw it away.
6. Have an aperitif: this week, have an aperitif at home while listening to some music. Be creative with the menu! You could have alcoholic or non-alcoholic drinks, but the most important part of a great aperitif is tasty food 😉 Do you want some inspiration? Have some cheese, green and black olives, pizzas, potatoes chips, caprese salad (made with mozzarella, tomatoes and basil), cured meats, quiches and grilled vegetables. Yummy yummy! Are you alone at home? Call your friends on Skype and have an aperitif together!
And that's it! Now you have a list of nice things to do while practicing social distancing this coming week. I've also made a template to make this "challenge" funnier. You will find it in my Instagram stories (@carolpomme). Use it as a to-do list to track your progress during the week: tick the different tasks as you accomplished them and publish the edited template on your stories. Don't forget to tag me in your stories, so I can see them too!
Hope you like this idea, let's stay home <3
Take care of you,
Carol