A detailed guide to The Ordinary Red Peeling Solution: how to use it the AHA 30% + BHA 2% Peeling Solution? What should you apply after the treatment? What does it do? You'll find everything you nee to know in this review!
The Red Peeling Solution is one of the best sellers of The Ordinary: no surprise here! This product is great – if you use it wisely!
The complete name of the product is AHA 30% + BHA 2% Peeling Solution: yes, such a typical The Ordinary name 🤣. Unlike many competitors, The Ordinary usually gives complicated names to its products. No worries! This guide will help you understand everything you need about this Peeling Solution!
It's effective, easy to use and it doesn't cost you a fortune! Actually, it's pretty cheap, but the results… They'll surprise you!
Last updated: 01/09/2023
Let's Have a Look at The Ordinary – The Brand Behind The Product
The Ordinary is a Canadian-based brand, launched for the first time in August 2016.  It was sold exclusively online at first.
Its parent company is DECIEM, while its mantra is: Clinical Formulations With Integrity.
And this philosophy is one of the reasons of its fame.
The Ordinary doesn't spend any money on marketing. By reducing its costs, the brand is able to sold its products at a lower price.
One of the many reasons why we love it!
What is The Ordinary Peeling Solution meant to do?
The Ordinary Red Peeling Solution – also known as AHA 30% + BHA 2% Peeling Solution – is an exfoliating solution.
To be more precise, we're talking here about chemical exfoliation.
How does it work? The solution contains a mix of powerful acids: 30% AHA (alpha hydroxy acid) and 2% BHA (beta hydroxy acid). AHAs remove dead skin cells from our epidermis and they reduce dark spots caused by UV.
They are also able to reduce the look of fine lines and wrinkles. The result is a smoothing, brightening effect.
On the other hand, the BHA used in this peel is salicylic acid, a powerful element that gets deep into pores.
So we can say that AHA works on the surface, while BHA works skin deep.
But the AHA 30% + BHA 2% Peeling Solution contains many other interesting ingredients! Some of them are: Tasmanian Pepperberry, Black Carrot, Vitamin B5 and Hyaluronic Acid.
Tasmanian Pepperberry is also used to reduce irritation, while Black Carrot has antioxidant properties.
How to Use the Red Peeling Solution
And now, let's talk about how to use the red peeling solution.First of all wash your face, then dry it completely.
Now apply the solution evenly all over your face, staying away from the eye and lip areas. In fact, the peel is too aggressive for these delicate parts. You only need a few drops of the solution to cover your entire face.
Leave on and then rinse it off using warm water.
An important note: do not keep this peel on for more than 10 minutes!
Your skin will probably be a bit pink and that's ok. But if your skin is red and irritated, probably this product isn't for you.
Remember! It's very important to moisturize after a chemical peel. On the other hand, you should stay away from retinol and vitamin C after it!
The day after the treatment, it's very important to to wear sunscreen when you go outside, as the red peel may cause photosensitivity.
Before your first use, you should do a patch test to determine whether you have any adverse or allergic reactions to it.
You should not use this solution if you have:
broken skin,


active breakouts and pimples,


sensitive skin.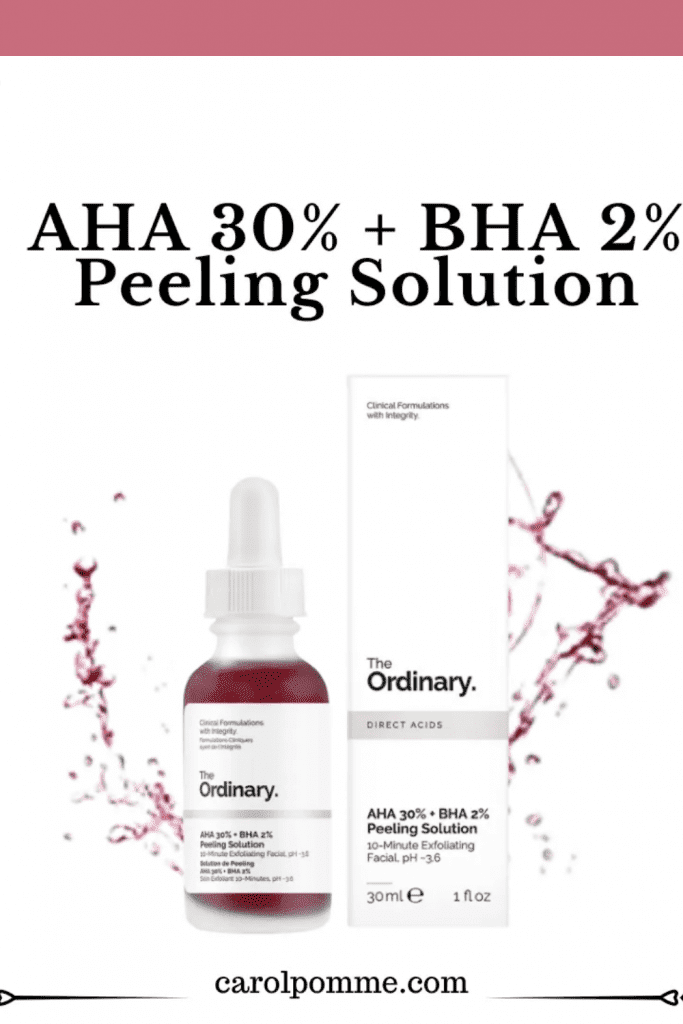 When To Use It?
Use The Ordinary Peeling Solution during your night skincare routine.
How Often Can You Use The Ordinary AHA BHA Peeling Solution?
You should use this Peeling Solution no more than twice per week.
If you apply this treatment and then experience pain or serious burning, remove the peeling solution immediately!
It's a sign that the product is too powerful for your skin.
Pros & Cons of The Ordinary AHA 30% + BHA 2% Peeling Solution
First of all, let's have a look at all the positive aspects of this skincare product:
Easy to apply,


Effective,


Cheap but powerful treatment,

And now, let's talk about the negative aspects of the The Ordinary Red Peeling Solution:
The formula is pretty strong, it's recommended to do a patch test before using it, and to not keep this peel on for more than 10 minutes,


Not suitable for acid newbies,


Only use it once or twice a week,
Ingredients Of The Ordinary Red Peeling Solution
What are the ingredients of this Red Peeling Solution?
Inci: Glycolic Acid, Water, Aloe Barbadensis Leaf Water, Sodium Hydroxide, Daucus Carota Sativa Extract, Propanediol, Cocamidopropyl Dimethylamine, Salicylic Acid, Potassium Citrate, Lactic Acid, Tartaric Acid, Citric Acid, Panthenol, Sodium Hyaluronate Crosspolymer, Tasmannia Lanceolata Fruit/Leaf Extract, Glycerin, Pentylene Glycol, Xanthan gum, Polysorbate 20, Trisodium Ethylenediamine Disuccinate, Potassium Sorbate, Sodium Benzoate, Ethylhexylglycerin, 1,2-Hexanediol, Caprylyl Glycol.
The Ordinary AHA 30% + BHA 2% Peeling Solution doesn't contain alcohol, gluten, nuts, oil, silicone, parabens, sulfates.
It's a cruelty-free and vegan product.
Where To Buy The Red Solution
You can buy The Ordinary AHA 30% + BHA 2% Peeling Solution here at Sephora, where it costs 9.50 $ (30 ml).